Whether your Commercial Construction project requires a liquid paint or powder coating, Spectrum Metal Finishing has the expertise to see that the job is done right and on time.
Our horizontal production lines were specifically built to service the Commercial Construction industry. Our part package measures 33′ long, 72″ high and 30″ deep. Compare that to our competitors, whose facilities typically handle only material ranging from 10′ to 24′.
Spectrum features a wet-on-wet application using a single bake process. The coating systems are all factory-applied — from primer to color coat to clear topcoat — in a single process and "fused" together like "finger joints" during the baking process.
We work hard to promote color consistency and minimize any metallic issues. Our on-line quality control tracks material throughout the entire process to ensure your complete satisfaction.
To find out how your project can benefit from our experience, contact a client service representative at 330-758-8358.
Spectrum Metal Finishing's Turbo Bell equipment is one of several cutting-edge technologies we bring to bear on all liquid coat projects. Efficient coating of your materials while adhering to the strictest quality standard will cut your costs significantly over the duration of a project. Our dedicated liquid painting system also utilizes an electrostatic charge between the component […]
Spectrum Metal Finishing's powder line features fully automatic, electrostatic powder equipment enclosed in an environmentally friendly "clean-room." The components are coated in the most cost-effective way possible with an application efficiency of 98%. Our innovative powder application process utilizes an electrostatic charge to ensure even coating, good wrap and penetration of all material This environmentally friendly process […]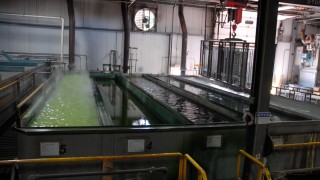 In order to meet the demands inherent in commercial construction today, Spectrum Metal Finishing uses some of the largest pretreatment tanks in the industry. This means we can pre-treat and coat unique and oversize components that our competitors cannot accommodate. Our immersion techniques ensure that every recessed area is properly cleaned, which allows the coating to permanently […]
As the finished product completes the coating process at Spectrum Metal Finishing, it is packaged right off the line. It is prepared to be shipped anywhere in the world.